AUTOMEC
INSIDE
AUTOMEC
INSIDE
AUTOMEC
INSIDE
AUTOMEC
INSIDE
AUTOMEC
INSIDE
Let's move your ideas
Gearmotors
Worm screws
|
Since 1989, Automec has been by your side to provide you with a gearmotor which is custom-made
according to your every idea.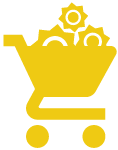 Order in a few clicks. In our shop you can find a selection of our best-selling configurations.
The custom-made gearmotor for you
We have been manufacturing planetary gearmotors, gearunits and worm screws since 1989. Our customers come from many different areas, as well as having many different uses for our gearmotors. Our customers are used to contacting us saying: "I need a custom made gearmotor", "it must have these characteristics", "make it according to this design". Tell us your needs and you will have your custom-made gearmotor.
The reliability of our gearmotors
We know that our gearmotors could be subjected to stress and working conditions that push them to the limit. That's why we supervise the entire production, which is completely in-house and ISO 9001 certified, so that you can always be certain of its origin. It is because of our professionalism that we have been chosen to work in iconic locations such as the 9/11 New York City Memorial, the Sydney Harbour Bridge, the Victory Column in Berlin, the Parliament in Budapest,..
For all those applications where a high torque, high efficiency and small size gearmotor is required.
For all those applications requiring the output shaft at 90° respect the input shaft, where it is important the high resistance to fatigue, the compact size and the noiseless operation.
For all those applications where it is necessary to obtain high reduction ratios driving high torque, and it is needed to have the output shaft at 90° respect the input shaft.
Gearmotors in Milan since 1989
AAutomec, today, is not only a company but it is the result of an adventure started in 1975 by Giovanni Franco Felice Maggi. He was first a self-employed craftsman, then he became the founder, in 1989, of our company. Since then 3 generations have followed one another in Automec. With us, you will not only have to deal with a gearmotor manufacturing industry, but with an experience, values, a school of thought that combines Italian talent with the typical industriousness of Milan.
Automec Customers in the World
Looking for a custom-made gearmotor? Fill the form.
Do you need a standard gearmotor? Visit our shop.