The winning Automec line for pizza ovens!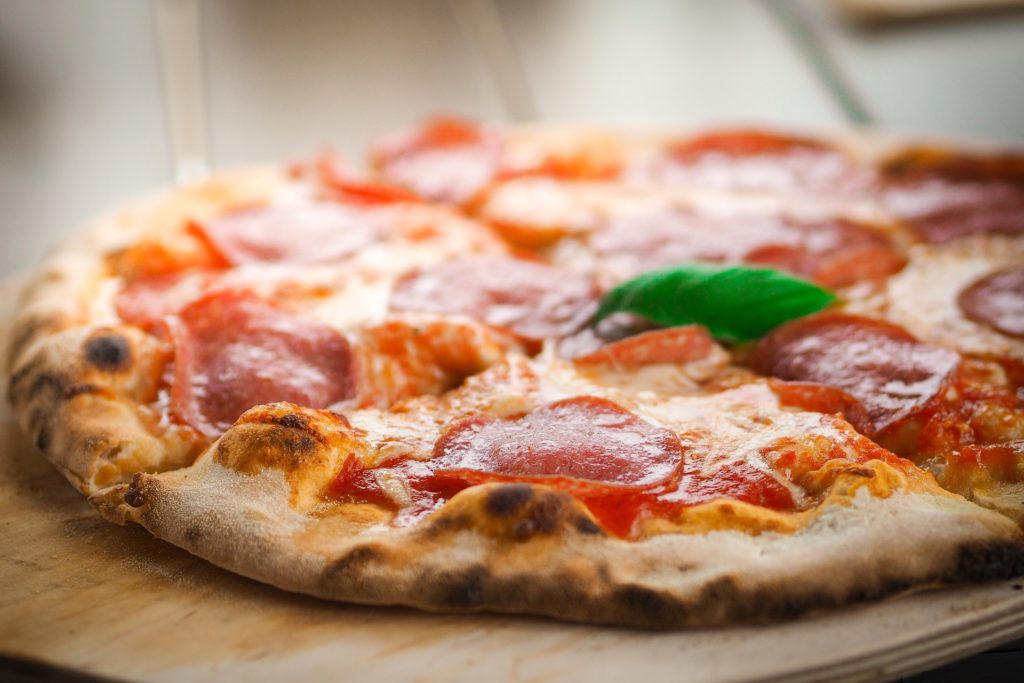 We are pleased to be able to include among our products a specialised line for electric pizza ovens. In particular the geared motor EP7090 and the worm screw VSF25EP65. These two Automec products are in fact ideal for different types of pizza ovens. Given the popularity of our pizza, both the EP7090 gear motor and the VSF25EP65 worm gear are particularly popular not only in Italy but also in Europe and beyond. We receive many requests from pizzerias abroad for this gear motor and worm gear.
The EP7090, the gear motor for pizza ovens and not only.
The geared motor EP7090 is entirely manufactured and tested piece by piece in Automec. It consists of a permanent magnet d.c. motor with powers from 90 to 200 Watts and voltages from 12 to 170 Volts and a planetary reduction part designed to transmit drive torques up to 60 Nm in continuous operation. In the standard version, the gearbox EP7090 is made with the same gearing as type EP70, but with a larger output shaft to withstand high radial loads and transmit high drive torques. On request, it can be produced with different types of gears, which allow the transmission of torques up to 120 Nm while maintaining the same external dimensions. The gearbox housing is made of self-lubricating sintered steel, which offers excellent mechanical characteristics and a longer service life.
The internal gears are made of self-lubricating sintered steel or hardened steel with high mechanical resistance to be suitable for high temperatures. Depending on the use, they can also be made of plastic materials. The geared motor type EP7090 is supplied lubricated for life by means of special long-life grease and therefore does not require any further maintenance. Normally it has a high durability. Because of its robustness it is particularly suitable for use inside pizza ovens as well as for many other uses.
The worm screw VSF25EP65
The AUTOMEC VSF25EP65 worm gearbox is the most compact type of this series and offers, thanks to the screw/wheel centre distance of only 25 mm and the EP65 type planetary stage, an excellent compromise between compact dimensions and high reliability for the transmission of torque up to 30 Nm with reduction ratios up to 1:10,800 for continuous duty. It consists of a permanent magnet d.c. motor with power ratings from 45 to 90 watts and voltages from 12 to 170 volts and a worm gearbox made with an aluminium bronze wheel and steel screw mounted directly on the motor shaft, coupled to one or more planetary output stages. The output shaft, supported on double sealed ball bearings, allows the transmission of high radial loads and does not allow lubricant to escape. All gearboxes in this series are lubricated for life with special long-life greases and therefore require no further maintenance. Special coupling flanges and foot mounting accessories are available. This product is also widely used in pizza ovens due to its durability and robustness.
Ready-to-use or custom-made.
We have these two standard models available to suit many pizza ovens, or alternatively we can customise the gear motor or worm gear to suit the requirements of the pizza oven. Our gearmotors and worm screws for pizza ovens are flexible and suitable for many different types on the market.
Never without!
It often happens that we are contacted by pizzerias, especially abroad, who urgently need one of our gearmotors EP7090 for pizza ovens or a worm VSF25EP65 in order not to lose sales especially during the weekend. For this reason we have recently activated an express service with which we produce the gearmotor in 48 and ship it to Italy and abroad. However, to avoid this risk, we suggest to those who own this kind of business, to always keep a small stock of gearmotors or a worm screw for pizza ovens to avoid losing valuable sales. As much as we can produce quickly, if we also add shipping time it's precious days of lost turnover for pizzerias!